Daniel Goodwin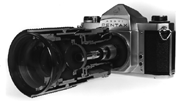 ---
"Ye shall know the truth, and the truth shall set you free."
--inscription in foyer of CIA headquarters in Langley, Virginia.


The CIA Museum is an ongoing project to confront the more ridiculous aspects of the "Company's" recent history. Utilizing the conventions of historical-museum display, which presupposes reception of the information therein contained as unmitigated historical fact, the installations function as parody--simulation at the level of impersonation.

The objects displayed were originally fabricated (as props for the photographs) according to technical descriptions and/or schematic drawings of equipment produced by the Central Intelligence Agency's Technical Services Division, though more recent works are but plausible fictions. The textual scenarios which illustrate the use of the weapons are based partly on documented evidence, and partly on conjecture.
---
---
---
Return     Gun Show Home     Artists     UCR/CMP Home Page
---