Eleven-year-old Vanessa Noble with 9mm Ruger P89 before her first Practical Shooting competition, On Target Shooting Range, Laguna Niguel, CA, 1996.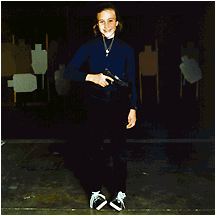 My next IPSC match, which will be my second one, I'm going to shoot the .45. It's weird because now it's so easy to shoot the .45 but it was, like, so hard to shoot the .22 when I first started. IPSC gives me something to do against other people who are a lot older than me and have more experience. Shooting is so fun because people are proud of me and they say that I'm a good shooter. I think it's a good sport because you have to learn a lot.

I like moving and shooting. It's kind of weird being the only girl against all these men who have been shooting for a long time. It's, like, kind of harder shooting with men because women are easier to be around and most of the men are a lot older and they're, like, interesting and stuff, but it's like, I don't know, for some reason it's easier to be around women.

Lindsay's six and she's shooting the .22. It will probably be a couple of years before she shoots IPSC because she's still not mature enough. She's learning a lot though, which is good. Last week she got to shoot the .38 Diamondback, the revolver, and she said she was so excited because, you know, it's pretty neat.